BOOST
Back
Botnar
RRIO
Rehabilitation and self-management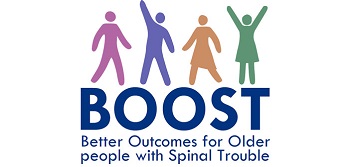 Trial Status: Complete
Began APRIL 2015
Recruitment closed AUGUST 2018
Funded by NIHR Programme Grant for Applied Research
We are undertaking a programme of research to improve the management of low back pain (LBP) in older adults. As part of this research we will survey up to 6,000 older people with and without back pain, so we can understand the impact of LBP on health outcomes in older adults. 
We will also evaluate a physiotherapy intervention for older adults with a common spinal condition called neurogenic claudication and plan to recruit between 400 and 500 participants in a randomised controlled trial.
BACKGROUND
Over 70% of people will suffer with low back pain at some point in their lifetime and the incidence of severe back pain increases with age. LBP is associated with mobility decline and falls in older people, and in turn, loss of independence and frailty. Conversely, this is the time in life when GPs and patients are least likely to target LBP for treatment. The reasons are complicated. In later life people are much more likely to have other health conditions which they think are a greater priority for treatment. Some older people just grin and bear the pain, accepting it as part of ageing. GPs and older people may not recognise the importance of LBP to the development of frailty and decline in later life.
Although there is a large body of research in LBP, this has focused almost exclusively on younger people. Hence there is little guidance appropriate to older people. We suspect older people respond and react differently to the common treatments for LBP.
AIMS
To refine a physiotherapy intervention for neurogenic claudication (NC).
To complete a feasibility study for a prognostic study and clinical trial of the NC intervention in the UK NHS.
To develop a tool that will help clinicians and older people recognise when and what types of LBP are important targets for treatment for older people. The outcomes will be mobility, disability, frailty and falls.
If feasible, to undertake a definitive randomised controlled trial demonstrating that access and participation in a physiotherapy intervention for NC can improve important outcomes including pain, disability, mobility, frailty and falls.
Explore whether MRI scans and other factors can help determine who will and will not respond to this treatment.
To integrate the findings of the trial and the prognostic tool into a package of treatments that can be used in primary care and other settings. This will include exploring GPs attitudes and beliefs to inform implementation and future research
Trial Publications
The intervention paper for this study can be found here.
The study protocol publication can be found here.
The statistical analysis plan publication can be found here.
Related research themes