Surgical Interventions Trials Unit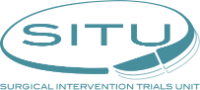 We aim to be a centre of excellence for the design and management of surgical trials, focussing on answering important health questions in the UK and worldwide.
The Surgical Intervention Trials Unit (SITU) is a multidisciplinary team of surgical investigators which act as a training and development hub for surgical trialists within the UK. 
We work as part of the Oxford Clinical Trials Research Unit (OCTRU) and draw upon the considerable methodological and practical trials expertise in Oxford, including six accredited trial units, statistical, ethical, systematic review, clinical network resources and the IDEAL collaboration. 
Our directors are Professor Freddie Hamdy, Nuffield Professor of Surgery and Professor David Beard, Professor of Musculoskeletal Sciences.
our aims and objectives
To work with and encourage researchers in the design of randomised clinical trials using novel approaches for evaluating surgical interventions
To provide trials unit support in the coordination, management and delivery of innovative trials for researchers with surgical interest in all specialties 

To operate to high standards of quality and performance, reflected in the quality of published research

To support translational research by the development of pilot studies evaluating new technology or interventions leading to randomised phase III/IV clinical trials

To provide expertise, training and development to researchers involved in surgical clinical trials from experienced researchers and clinical research trialists

To provide guidance and support to surgical specialist researchers to develop and conduct clinical trials in their area of expertise, ensuring trials are conducted to ICH GCP and relevant legal and regulatory standards
Related research themes