UKUFF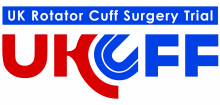 HTA Project Reference: 05/47/02
Recruitment to UKUFF was completed in February 2012. Follow up of patients was completed at the end of 2013 and analysis of the data completed in 2014.
The UKUFF Trial (funded by the Department of Health's NIHR Health Technology Assessment programme) is a multi-centre randomised controlled trial to measure the clinical and cost effectiveness of different types of surgery for rotator cuff repairs.
Background
The rotator cuff is a group of muscles that control movements within the shoulder. Tears of the rotator cuff are one of the most common causes of shoulder pain and dysfunction. The clinical evidence available regarding the natural history and the treatment of rotator cuff tears is limited and conflicting.
Different methods of rotator cuff repair surgery are practiced throughout the United Kingdom.
These include:
Arthroscopic Repair

the tear is repaired through key-hole surgery

Open Repair

a longer skin incision is used to undertake the procedure under direct vision
Initially the study design incorporated a non-surgical comparator arm. 58 centres and 90 surgeons from around the UK were involved and 474 patients were recruited between December 2007 and December 2009. An extension was granted by the study funders at the beginning of 2010, but the extended recruitment period only applied to the surgical comparison. Recruitment to the non-surgical arm of the study stopped. All data collected up until the end of 2009 will be included in the final analysis of the extended study version.
Aims
This study is now designed to assess the two methods of surgical treatment for rotator cuff tears.
Method
We will investigate over 180 patients, from 20 centres through out the United Kingdom. Information to be collected and analysed includes:
Patient focused questionnaires regarding shoulder pain and function
Patient focused questionnaires regarding the economic cost of the treatment
Health care resources used (i.e. hospital stays, operating theatre equipment)
MRI scans 12 months after the surgical repairs (to see if the repair is intact)
Histological findings from tissue samples harvested during surgical repairs (to see if tissue quality influences success)