TOPKAT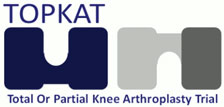 The project is funded by the NIHR Health Technology Assessment programme.
HTA Project Reference: 08/14/08
The TOPKAT clinical trial, is a multi-centre randomised trial to measure the clinical and cost effectiveness of total and partial knee replacements for medial compartmental osteoarthritis.
Background
In the majority of patients with osteoarthritis of the knee the disease originates in the medial compartment. There are two different approaches to replacing this arthritic area. Some surgeons feel that it is always best to replace both the knee compartments with a Total Knee Replacement (TKR). Others feel it is best to replace just the damaged component of the knee with a Unicompartmental Replacement (UKR). There is little agreement amongst knee surgeons. Both interventions are established and well documented procedures, yet little evidence exists to support their practices. Each intervention is considered standard care but little evidence exists to prove the clinical and cost effectiveness of either management option.
Aims
The aim of TOPKAT will be to assess the clinical and cost effectiveness of Total Knee Replacements versus Unicompartmental Knee Replacements in patients with medial osteoarthritis.
Study Participants and Recruitment
Patients will be recruited by their Consultant Knee Surgeon in collaboration with the local research team. TOPKAT will aim to recruit 500 patients altogether from approximately 20 centres throughout the United Kingdom. Patient recruitment is over a 2 year period. Information to be collected and analysed includes:
Patient focused questionnaires regarding knee pain and function;
Patient focused questionnaires regarding the economic cost of the treatment;
Health care resources used (i.e. hospital stays, operating theatre equipment);
Post operative radiological assessments.