Arthritis Therapy Acceleration Programme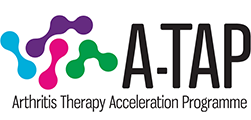 The Arthritis Therapy Acceleration Programme (A-TAP) creates a hub of expertise and infrastructure to support clinical inflammatory disease research to narrow the gap between bench and bedside.
AIMS
The A-TAP aims to speed up the development of new therapies across four related IMIDs: rheumatoid arthritis, inflammatory bowel disease, Sjogren's syndrome and seronegative spondyloarthropathies. It will do this by exploring the common pathogenic pathways as well as the distinct organ specific features of these four inflammatory diseases. The A-TAP will facilitate the use of drugs based on the concept of process-driven pathology such that the relationship between the molecular targets and the clinical manifestations of of the disease is more transparent.
The initiative brings together basic science at the Kennedy Institute of Rheumatology (Oxford) with translational research capabilities at the Nuffield Orthopaedic Centre (Oxford) and the Institute of Translational Medicine (University of Birmingham). With £7 million funding from the Kennedy Trust for Rheumatology Research, it is also supporting the formation of an 'M40 alliance' that brings together consultants, nurses and clinical researchers from clinical centres across Oxford and Birmingham as well as University Hospitals Coventry and Warwickshire. This network provides researchers in Oxford, Birmingham and beyond with access to tissue samples and patient cohorts to facilitate translational and clinical research.
OBJECTIVES
1) To deliver a new taxonomy of IMID
A-TAP seeks to identify unique pathological mechanisms as well as common therapeutic targets across four specific IMIDs: rheumatoid arthritis, inflammatory bowel disease, Sjogren's syndrome and the seronegative spondyloarthropathies. This is being achieved through detailed molecular profiling of patient tissue samples and the integration of experimental datasets with clinical analysis from multiple patient cohorts. The ultimate goal is to deliver a new taxonomy of inflammatory disease that moves away from a traditional organ- and speciality-based approach towards a process-based pathway-driven classification that reflects underlying pathology.
2) To perform experimental medicine trials in carefully selected patient populations to facilitate uptake of new therapies at pace and scale
The emerging concept of process-driven taxonomy of inflammatory disease will be used to guide proof-of-concept experimental medicine studies in carefully selected patient populations in our target diseases. By creating a bridge between detailed understanding of disease pathology and clinical phenotypes, the A-TAP will match new as well as existing drugs to appropriate patient populations to accelerate target validation. Further, the M40 alliance creates a cross-disciplinary hub for collaborative partnerships between basic scientists, clinicians, industry and patient partners to facilitate the testing of new drugs.
Related research themes