AIM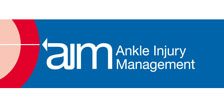 Trial Status - Complete
AIM is an academic research study. Sponsored by Oxford University and led by Professor Keith Willett, AIM is funded by the NIHR Health Technology Assessment programme.
HTA Project Reference: 07/37/61
A pragmatic UK multi-centre randomised controlled trial comparing Close Contact Casting technique (CCC) to Open Surgical Reduction and Internal Fixation (ORIF) in the treatment of unstable ankle fractures in patients over 60 years of age.
The AIM Trial is a pragmatic, multi-centre, individually randomised controlled equivalence study with parallel prospective economic evaluation
BACKGROUND
25% of those who present with an ankle fracture are over the age of 60. The proven treatments suitable in young patients are not necessarily appropriate in later life. The ankle bones, leg circulation and skin quality all become more fragile with age. To achieve the optimum result in treating ankle fractures, the key objective must be to ensure the bones around the ankle joint heal in the best position to maintain function. For most patients, this requires an operation to set the bones back into position by inserting a metal plate and screws. However, some patients may be treated by manipulating the bones back into position under anaesthesia and then applying a close contact cast, which is a standard plaster cast applied by a specialised technique..
STUDY DESIGN
Both of these treatments have advantages and disadvantages in the older patient. The plates and screws are good at holding the exact position but can fail if the bone is weak or if the surgical wound does not heal or becomes infected. The alternative, manipulation and a plaster cast, has been found to be less good at holding the position in some people. It can also cause skin problems from the pressure of the plaster. In the past, most patients have been treated with plate and screw surgery. However, a plaster cast technique developed to treat diabetic patients who have the very poorest skin has now been sucessfully modified for use in older patients with unstable ankle fractures. The purpose of this study is to determine whether this modified cast treatment using a 'close contact cast' is equivalent to the operation using plates and screws, i.e. it gives the same results without the need for open surgery and the risks of wound healing problems and infection. We will test the results by comparing healing of the bone and skin and how well theankle moves and how well the patient is managing overall 6 months after injury.