DRAFT3 – CASP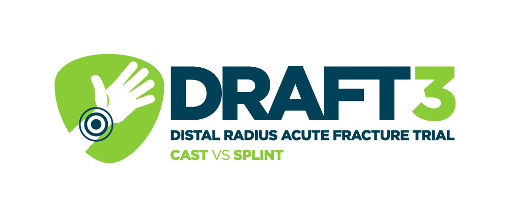 DRAFT3-CASP is funded by National Institute for Health and Care Research – Health Technology Assessment
This trial aims to compare two treatment methods that are currently standard care for treating wrist fractures. There are a large number of wrist fractures every year in the UK and by comparing the clinical and cost effectiveness of the treatments, this could help save money for the NHS.
Summary 
Usual care for this population is to provide the patients with a temporary backslab plaster cast in the emergency department. The patient would then be referred to the fracture clinic where this cast is converted into a full, circumferential cast. The patient will then return at around 4-6 weeks to have this cast removed.

Some evidence has recently shown that a removable wrist splint may provide the same support as a cast whilst the fracture heals. The splint can be removed by the patient themselves and so would not require the patient to return to hospital and could save money for the NHS. However, if the splint does not provide patients the same support as a cast, the patient may have inferior function in their wrist.

This study aims to recruit a minimum of 1894 participants across 36 centres. The participants will be followed-up for 1 year following their recruitment to the trial and will complete a series of questionnaires in order to record their health related quality of life, wrist function and any costs incurred to them as a result of their injury. 
The trial will help us find out if a removable splint can provide the same support as a plaster cast for undisplaced distal radius fractures. 
Background 
Distal radius wrist fractures affect over 100,000 people in the UK each year. They typically affect older populations with 6% of all women having sustained this type of fracture by the age of 80, and 9% by the age of 90. The previous draft study (DRAFFT2) looked at two different ways to hold the bones in place after surgery was performed to manipulate displaced wrist fractures. The DRAFT3-CASP trial will look at distal radius fractures in adults that are undisplaced and do not require surgery. This study will compare the clinical and cost effectiveness of two treatment options that are already standard practice in the NHS:
Plaster cast
Removable splint 
Aims and objectives 
The primary objective of this trial is to quantify and draw inferences on observed differences in function between treatment groups using a validated patient reported wrist evaluation questionnaire up to 3 months post-randomisation. 
Study design 
Multi-centre, Randomised, Non-inferiority trial with a 6 month internal pilot phase. 
Contact 
For more information please contact Heather Barnes. 
Related research themes